Plans for expansion of Bow Street Mall in Lisburn rejected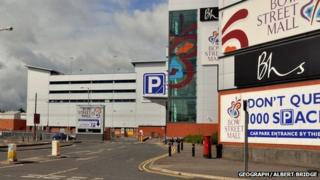 Planners have rejected an application for a major redevelopment and expansion of Bow Street Mall shopping centre in Lisburn, County Antrim.
The plans would have involved the redevelopment of two streets and a public car park.
They were first filed in 2005 with amendments in 2009 and 2010.
Planners said the proposals were inappropriate in scale and design and would harm the townscape and detract from a listed building's character.
They also found that the proposals would have an unacceptable impact on the surrounding road network.
The planners' recommendation is due to be discussed by Lisburn City Council next week.
The shopping centre is owned by Bow Street Mall Ltd, a firm controlled by the property developer Michael Herbert.
In 2013, Bow Street Mall Ltd made a pre-tax profit of £3.5m on turnover of £8.6m.
The firm had assets of £102m which were outweighed by its liabilities of £124m.