Ambulance service review after staff shortage led to 999 delays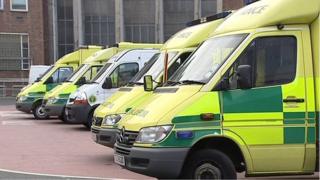 The Northern Ireland Ambulance Service (NIAS) is reviewing its operations after staff shortages led to delays in its 999 response times at the weekend.
On Saturday night, almost one third of the ambulances normally on duty across Northern Ireland were unavailable because there were too few staff.
It meant there were only 37 ambulances in service, instead of the usual 52.
The NIAS said it responded to all the emergency calls it received, but added that there were delays in "many cases".
Northern Ireland has five ambulance operational areas and each one of them was three crews short of a full staff on Saturday night.
The internal review has been ordered as a direct result of the staffing problems in the service over the weekend.
Vacant posts
The NIAS director of operations, Brian McNeill, told the BBC's Nolan Show: "We dropped our cover levels down to 71%, which put a lot of pressure on the people who actually came to work that night."
He said all 999 were answered and there had been no reports of "serious adverse incidents" but he added that ambulance response times were "slower than we would have liked".
Mr McNeill told the programme a number of factors, including unfilled posts and late notification of sickness absence, had contributed to the weekend staff shortage.
The director of operations said that 13% of jobs within the NIAS are currently vacant.
However, he added that the service had recently received £1m in additional funding and was in the process of recruiting more staff to fill the vacancies.
In regard to sickness absence, Mr McNeill said the NIAS had received a "very high number of requests" for casual leave during the recent sunny weather.
"Unfortunately, we are not always in a position to be able to grant that leave and as a consequence of that, we see an increase in the levels of sickness absence, and that's a pattern that we experience," he added.
'Fewer ambulances'
The Northern Ireland Ambulance Branch of the Unison trade union said the drop in accident and emergency ambulance cover at weekends was "a symptom of a larger financial issue" and it blamed efficiency savings "imposed by the Department of Health".
"Simply put, the operational staff are required to answer more 999 calls with fewer ambulances available to do so," the union said in a statement.
"This has had the knock-on effect of 999 crews having to work through their meal breaks and being hours late off duty at the end of their shift."
The union said there are currently "approximately 100 vacancies at emergency medical technician grade" within the NIAS and ambulance crews were "often left standing for hours in hospital corridors waiting to offload their patients".
"Due to these difficulties, there has been reluctance by staff to give up their weekends off to do overtime shifts, thus impacting on the ability of the trust to grant annual leave requests at the weekends."
'Disappointed'
Addressing NIAS staff leave difficulties, Mr McNeill told BBC Radio Ulster's Nolan Show: "We plan to cover the annual rostered leave, we plan to give as much casual annual leave as we can possibly grant.
"We do refuse casual leave but unfortunately like any organisation that works 24/7, we do experience short notification of sickness and it's impossible for us to get crews to come in to get cover those short-notice absences."
In a statement to the Belfast Telegraph newspaper, the NIAS said: "The Northern Ireland Ambulance Service was disappointed that on Saturday, 26 July we had to operate at 15 crews short throughout Northern Ireland.
"That was three short in each operational area.
"During this time we responded to all emergency calls received, however, in many cases there were some delays."