Londonderry fire: Sinn Féin office in arson attack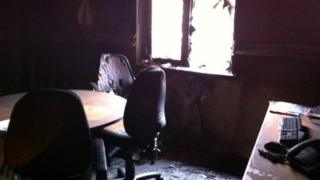 The Secretary of State, Theresa Villiers, has condemned arsonists who attacked Sinn Féin's headquarters in Derry.
It happened at Eastway Road in the Creggan area on Sunday night. The fire service said they were called shortly before midnight.
The fire was brought under control quickly and damage was confined to one part of the building.
Police say a rear window was broken and a flammable liquid poured in.
In a statement, Ms Villiers said: "I totally condemn this disgraceful attack. The criminals responsible show nothing but contempt for democracy and the political process."
She added: "I urge anyone with information to bring it to the PSNI."
Sinn Féin assembly member Raymond McCartney said the repair bill could run into thousands of pounds and that it was "an attempt to attack the democratic process."
He added: "It hasn't been the first arson attack and the attacks have come from many sources but this will not stop us working for the people of this city."
"We will not turn our offices into a fortress, it will be business as usual for Derry Sinn Féin, continuing to serve the people of the city and the wider north west."
The office, at Rathmore business park, was the target of a similar arson attack in 2009.