Ulster Bank announces stronger results than expected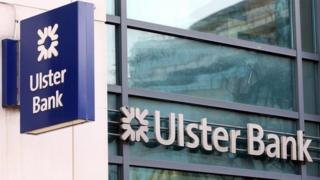 Ulster Bank made a profit of £55m in the first six months of 2014, compared to a loss of £381m in the same period last year.
Its parent company RBS has released the details a week earlier than expected.
RBS said it made the early announcement because the group's results were "significantly stronger than the market was expecting."
The bank has said it expects pre-tax profits of £2.65bn for the first half of the year, up from £1.37bn last year.
Ulster Bank is the largest bank in Northern Ireland and the third biggest in the Republic of Ireland and it reports results on an island-wide basis.
It has been the weakest part of RBS though these results suggest it is finally beginning to recover.
Its turnover was down from £444m to £412m, but the improved performance was driven by a big reduction in the amount it has to set aside to cover bad loans.
These "impairment charges" were £57m, compared to more than £500m in the same period in 2013.
The bank's future in Northern Ireland looks assured with the business becoming more closely aligned with RBS UK.
However, the precise of the shape of the bank in the Republic of Ireland is uncertain.
RBS has been examining options for that part of the bank which include a possible merger or sell-off.
Its chief executive, Ross McEwan, confirmed that private equity involvement was an option being explored for Ulster Bank.
"I know there's been a lot of speculation on that, and it's interesting how many people want to buy into Ireland at the moment," he said.
"Right now we're doing a lot of work inside Ulster to see what opportunities we've got, and how that business can position itself.
"That's going reasonably well and we'll be talking more about that probably in the next two or three months."
Mr McEwan said the RBS executive team had been "buoyed" by a visit to Ireland in recent weeks and said the country's economy was "very good".
RBS chief financial officer Ewen Stevenson said Ulster Bank had been making good progress in selling off property and property loans.
"People are after these assets and that has helped us," he added.