Jet2 creates 86 new jobs at Belfast International Airport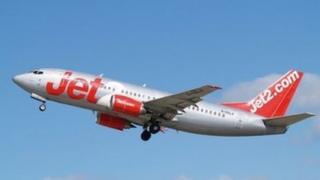 The airline Jet2 has said it is creating 86 new jobs at Belfast International Airport with flights to new destinations.
Next year it will begin operating to Prague, Rome, Gran Canaria and Zante.
Jet2 said the jobs would include flight and cabin crew, as well as engineers and ground operations staff.
It is to introduce a third dedicated aircraft to Belfast and said next year will be its "biggest-ever flying programme" from the international.
It will run more than 70 flights a week to 16 destinations.
Uel Hoey, business development manager at the airport, said: "The decision to base a third aircraft here reinforces the airline's belief in the Northern Ireland market."
Rome and Prague will be served by twice weekly flights.
The other new routes will see one flight a week.
Jet2 has been operating out of Aldergrove for 10 years.
Last week, Virgin Atlantic announced it would run a short summer service to Orlando.
Recently, Easyjet began a new service to Iceland.
William McCrea, MP for South Antrim, welcomed the Jet2 announcement.
"This is a significant announcement for the International Airport and represents a vote of confidence in the staff and management of the airport.
"I hope that we will continue to witness the growth, development and expansion of the International airport well in to the future."