Stormont budget: Sinn Féin confident agreement can be reached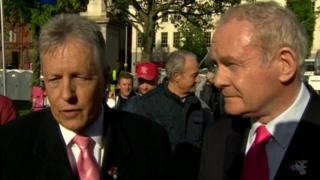 Sinn Féin has said it is now confident agreement can be reached quickly on the latest quarterly budget, known as June monitoring.
The party said enormous progress has been made and agreement is close on a paper tabled by the finance minister.
But other executive sources claims a compromise has been worked out to deal with both June monitoring and impending welfare penalties.
The quarterly budget is three weeks late.
It was delayed over rows about how to deal with the Treasury's demand for £87m in penalties because welfare reform has not been introduced in Northern Ireland.
This is on top of an annual shortfall of around £80m due to spending pressures.
Sinn Féin's position is that the June monitoring round must be kept separate from what it calls Tory-imposed fines.
The monitoring round deals with the redirection of unspent funds from Stormont departments to other areas where there is a shortfall.
Other executive sources have said the proposed compromise is that any unspent funds in this monitoring round will deal only with the usual financial pressures and fund areas of need, such as health.
'Hopeful'
But the paper indicates the issue of welfare penalties will be dealt with in the next budget round in October.
In a statement, Sinn Féin said it remains hopeful of a political solution to the welfare reform issue between now and then, though others in the executive have said this is unrealistic and the problem of penalties will not go away.
On Wednesday, Finance Minister Simon Hamilton circulated a paper outlining millions of pounds in cuts across departments.
Health and education will be excluded, according to Stormont sources.
The paper follows intense discussions between the first and deputy first ministers on how to deal with tens of millions of pounds of outstanding budget pressures.
Ministers are being asked to comment on the paper, which deals with the June monitoring round.
It is hoped an executive meeting will be held next week to discuss the paper.
If agreed, Mr Hamilton will make a statement to the assembly, possibly in written form as it is in recess.
If health and education are to be ring-fenced against the cuts that means the burden of the financial pressures will fall on the other ten departments.
One source suggested the paper recommends funding for the Historical Institutional Abuse Inquiry (HIA), and possibly an extra £40m in funding for health.
'Reality'
Stormont justice minister David Ford said the situation was a "shambles".
"By protecting two departments - one led by the DUP and one led by Sinn Féin - other parties are suffering significantly in a way which the paper does not justify," he said.
"I am very surprised at the notion that a DUP minister, for all the party's claims about supporting the rule of law, would make the kind of cuts that are currently being proposed for the police service.
"I think that's something where they need to face up to the reality of what they are currently suggesting."
Mr Ford said the issue of welfare penalties had to be dealt with.
"It is absolutely clear from the Westminster government that there will be no further concessions on welfare cuts beyond what was obtained months ago, and people need to be realistic," he said.
"If they do manage to somehow scrape by with further cuts later this year, they will have an even bigger problem next year."