Northern Ireland's A&E units miss 12-hour wait targets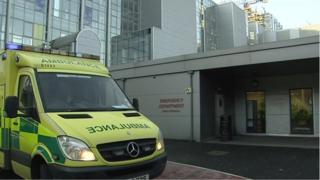 The 12-hour waiting time target for Northern Ireland A&E units was breached more than 700 times between April and June, according to the latest figures.
The target states that no patient should wait longer than 12 hours to be treated, discharged or admitted.
The majority of the breaches were at Belfast's Royal Victoria Hospital (RVH) and Antrim Area hospital.
The Department of Health said the RVH's 12-hour target performance had "declined notably" from April to June.
The Belfast hospital houses Northern Ireland's regional trauma centre and deals with the biggest number of A&E patients.
During the month of April, 67 patients waited more than 12 hours in the RVH emergency department, but during the month of June, 190 people waited in excess of 12 hours.
By contrast, Antrim Area Hospital's 12-hour waiting times improved over the same period, with 122 breaches in April and 63 in June.
No patient waited in excess of 12 hours in the emergency departments of Londonderry's Altnagelvin Hospital, the South West Acute Hospital in Enniskillen or the Causeway Hospital in Coleraine.
Newry's Daisy Hill Hospital, Craigavon Area Hospital and the Royal Belfast Hospital for Sick Children each recorded just one patient waiting more than 12 hours between April and June.
The four-hour waiting target, which states that 95% of patients should be treated, discharged or admitted within four hours of arriving in A&E, was breached at all NHS hospital emergency units in Northern Ireland.
The health service had to deal with an increase in the number of patients attending emergency departments over the quarter, with figures rising from 60,142 A&E attendances in April to 62,193 patients in June.
The latest A&E waiting time statistics have been compiled by the Department of Health's Hospital Information Branch.
It stated: "The ministerial target for emergency care waiting times has not been achieved during any of the last three months (April - June 2014) as one or more components of the target were not met."
However, it pointed out that the four-hour and 12-hour targets were met in full by all of Northern Ireland's type three emergency care departments - which include minor injury units - during the period under examination.
In a statement, the Belfast Health and Social Care Trust said: "In June alone, the Royal Victoria Hospital emergency department (ED) has had 711 more attendances, 312 more ambulance arrivals and 91 more emergency admissions than during the same month last year.
"We used to see a big improvement in ED performance in the summer months, but pressures on our regional trauma centre have become a year round phenomenon.
"Not only are we seeing bigger numbers, but those needing admission are more ill and more complex than before, which can mean longer hospital stays, which in turn means fewer hospital beds for new patients.
"We know that our ED waiting times are far too long. We are actively engaging with our senior medical and nursing staff to find better and more effective ways of improving the experience of our patients."