Girl airlifted after freak bike accident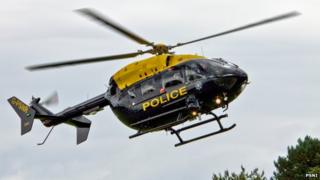 A freak accident almost claimed the life of an 11-year-old County Down girl on Saturday.
Alana Casement was riding her bike in Castlewellan Park when she fell off. During the fall, the handlebar gouged into her left leg severing veins beside an artery.
She was airlifted to the Royal Victoria Hospital in Belfast (RVH) in a police helicopter where she underwent surgery.
Doctors said Alana lost more than half of her blood supply.
Speaking on BBC Radio Ulster's Talkback, her mother Collette said they were "very lucky" to still have Alana with them.
Alana had been staying with friends when the accident happened. After seeing Alana fall from her bike, her young friend ran for her father, Raymond.
Mrs Casement said he described seeing a "fountain of blood" streaming from Alana's leg when he reached the scene.
"He just clamped her leg," she said.
"Raymond wouldn't let go. He got the blood flow stemmed, he put pressure on it. "
Air support
The Castlewellan Show was on at the weekend and officers from the Newcastle Neighbourhood Policing Team were informed by a member of the public of the accident.
The Police Service of Northern Ireland (PSNI) said the officers rushed to the scene and when they realised the seriousness of the girl's injury asked for the Air Support Unit to be sent.
Alana's mother was just a few miles away in Newcastle at the time when she received the news.
After surgery Alana was kept in intensive care at RVH until Monday evening.
"She's come round and they've taken her off sedation," Mrs Casement told Talkback.
"She's very sore, very lethargic with the blood loss. She could talk to you for five minutes then sleep for four hours."
The family have been told that the full extent of Alana's injuries will not be known until she can get back on her feet, but doctors expect any nerve damage to heal.
Mrs Casement said there were so many people to thank.
"The medical team in RVH is just fantastic, nothing was a bother to them. They kept us informed at all stages," she said.
"Raymond and people who we'll never know."
The police said actions of officers helped to save the girl.
"We have since been contacted by others who were involved in the incident and we have been told that without the help of those officers, the young girl may not have survived," said Inspector Mark Peters, from Newcastle Neighbourhood Team.