Ravenhill Road to remain closed as more holes found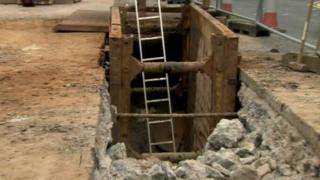 More "voids" have been found beneath an east Belfast road that was closed after a large hole was discovered under one of its traffic lanes.
The Ravenhill Road closed on Monday after contractors found a "large void" while carrying out work for Northern Ireland Water.
NI Water said the road will remain closed after CCTV footage identified other holes that will require repair.
It is unclear how long the road will be closed for.
The road was already operating with one lane due to work to replace a sewer at the Park Road junction, when the initial large hole was discovered.
Bill Gowdy, head of engineering procurement at NI Water, said the newly discovered voids could cause work to go on "for a few more weeks".
"We thought it (the void) would be cleaned up yesterday. We put in a CCTV survey and found a lot more voids," he said.
"We have to take our time now, not only to replace the sewer, but to fill in those voids. Regrettably, it's going to take a bit longer."
'Repair work'
He said that the holes are "no great problem" for residents but that "it's right that we should be cautious, close the road and get the voids filled in".
A spokesperson for NI Water said: "Urgent work to repair the void discovered while carrying out sewer replacement work on the Ravenhill Road is nearing completion.
"However, CCTV footage taken of the area has identified similar voids which will require the same type of repair work.
"Following consultation with Transport NI (DRD), it was agreed for safety reason that a section of the Ravenhill Road will be closed until this essential work is completed.
"The length of the affected road is approximately 65 metres and this will be reduced on an ongoing basis as the work progresses."
The spokesperson said the work would be completed "as quickly as possible".
The road remains closed between Ravenhill Park and South Parade.
Cars travelling into Belfast city centre are being diverted onto the Ormeau Road, at the Rosetta roundabout, while country-bound traffic is being diverted via the Ormeau Embankment.