Belfast remembers people who have died through substance addiction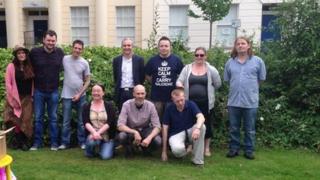 On 21 July each year, people throughout the world come together to remember those who have lost their lives through drugs or alcohol addiction.
And on Monday night at Fly Park in south Belfast - for the third consecutive year - an event was held to remember loved ones who have died because of an addiction.
But despite the heavy subject matter, there was still room for some jokes among old friends catching up.
Before a minute's silence, a small Japanese tree was planted and a memorial book was signed.
'Chance to reflect'
Nicola Keegan, is the chair of Belfast Experts By Experience (BEBE), a group that advocates for those living in Belfast who suffer from addiction problems.
She said for some people, it provided a missed opportunity to grieve.
"We all go and remember our dead family members on their anniversary every year, so I don't see why we can't have a day for those who have lost their lives through addiction," she said.
"Most of us at least know of somebody we have either met in passing - or have known for years - that unfortunately their addiction got the better of them."
Nicola Keegan said running a night of remembrance gave people an outlet to "reflect" on their relationship with the person they had lost.
"Maybe they weren't able to get to the funeral, or weren't well enough as they were dealing with their own addictions at the time and didn't want to put their own family and friends out," she said.
"It just gives everyone a chance to reflect on their own."
Dennis Carson, who is also a member of BEBE, attended the event.
'Stereotyped'
He said he had suffered from a drug addiction, which at one point saw him spending £800 a week on cocaine. He was able to move on after a programme of abstinence.
He said: "I was very lucky and fortunate to survive what I did, others haven't and this is something we'll push for every year.
"A lot of people who have got themselves caught up in this type of thing, they are stereotyped.
"We're here to take that away and let people sort of see that it's not all about bad things that can come out of it, if you're working with the right people."
Making a speech to the group, one of the attendees who preferred to be known only by his first name, Terry, said he hoped the event would prevent more people from losing their lives through an addiction.
"It was an honour to speak here tonight and to remember those we've lost," he said.
"We need to make sure we remember each other in our grief as in remembering them, we hopefully won't have to remember more in the future.
"Luckily, there seems to be fewer names to go into the memorial book each year."