Hundreds attend County Fermanagh anti-fracking protest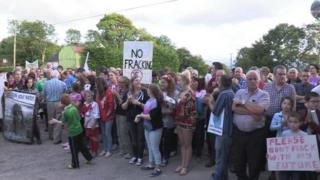 Several hundred people have taken part in an anti-fracking protest in County Fermanagh.
The protest took place on Monday evening at a site near Belcoo, where a shale gas exploration company has announced plans to drill an exploratory borehole to collect rock samples.
Tamboran Resources said drilling would last about 30 days and would not involve fracking.
The protest group said it was angry about how the site had been developed.
If the samples show commercially viable levels of gas, Tamboran will begin a process that could lead to fracking.
The company said the borehole will be about 15cm across and 750m deep.
Speaking on Monday evening at the Belcoo site, Donal O'Cofaigh, a resident and one of the organisers of the protest, said: "There's a lot of anger and obviously the people in the local community wanted to show the strength of opposition that exists here.
"There hasn't been any consultation with the local community - they've never been consulted about this.
"There are a lot of genuine and well-founded concerns about this industry and how it may develop, and what we want to see is that drilling (is) stopped now."
In fracking, a mixture of water, sand and some chemicals are pumped into a well under high pressure to force the gas from the rock.
In 2011, Tamboran was granted a petroleum licence for an initial five-year period from the Department of Enterprise to explore for natural gas in Fermanagh.
The collection of rock samples is a requirement of the work programme set out by government within the licence.
'Long way off'
Tony Bazley, director of Tamboran Resources, said the work amounts to "fact-finding, not fracking".
"Tamboran's intention at this stage is only to verify that the elements necessary for natural gas and its recovery are contained within the shale in County Fermanagh," he said.
He added that the test drilling should quickly show if there is enough gas to make extraction commercially viable.
"If we find a significant gas resource, it is likely we will continue to the end of the licence term in 2016.
"Before the end of the licence term, a single site would be tested for natural gas if given planning permission."
He added that this was "still a long way off and ultimately any decision to use hydraulic fracturing will be made by the government of Northern Ireland".