Visit Derry says international visitor numbers up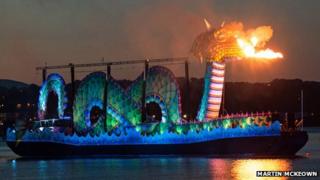 Londonderry's tourist information centre has said the number of international visitors coming to the city has risen.
Visit Derry believes that the City of Culture year played a part in attracting visitors this year.
It said 2013 proved to be an "exceptional year" for the city.
Visit Derry said its strategic tourism focus for 2014 was that the legacy of 2013 would be tangible and evident for years to come.
Figures released by Visit Derry said there had been a 14% growth in hotel room sales since 2012 equating to 7% year-on-year growth.
There has been a rise for the first six months of 2014 from international visitors, particularly mainland Europe (+7%) and North America (+3%).
Visit Derry said this was partly because of the "strong appeal" of the the city's historic and cultural attractions.
Odhran Dunn, general manager Visit Derry, said 2013 had been a "fantastic" year for the city.
"In 2014 there's been good momentum built up for the city," he said.
"We've had great events coming back to the city this year and we're delighted with the figures that are coming through from European and American markets.
"They have shown a greater market share in 2014 compared to 2013."
Learning curve
Mr Dunn said it had been a "challenge" following on from the city's year as UK City of Culture in 2013.
"It would be like any destination across the world hosting a major event," he said.
"It's very difficult to compete with that and we were aware of that and we've learnt from the experience of Liverpool and how as capital of culture it had impacted on them."
Mike Gatt, general manager of the Tower Hotel in Derry, said 2014 has been a "fantastic" year to date.
"I think there's been a great spin-off from last year," he said.
"It would be well up on 2012, obviously not the 2013 level, but I would say on occasions it's not been far off 2013.
"I think everyone had the fear of the hangover from 2013 and such a good year it was.
"We were all waiting with baited breath for the great unknown. Across our industry, certainly the hotel industry, we're seeing great figures and it's very promising for the future."