Ulster Bank portfolio: Titanic Quarter loans may be sold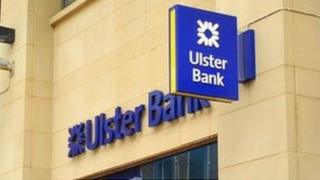 A huge loan portfolio being sold by Ulster Bank reportedly includes loans relating to offices and apartments in Belfast's Titanic Quarter.
The Project Achill portfolio contains loans with an original value of almost £1bn relating to around 160 properties.
By value, a quarter of the portfolio is in Northern Ireland, according to property news service Co-Star.
Banks across the island of Ireland have been selling loan portfolios as a way to swiftly reduce property exposure.
On the whole these portfolios have been bought by large US investment funds.
The biggest of these deals was Nama's sale of its entire Northern Ireland loan portfolio for £1.3bn earlier this year.
The Project Achill assets in Northern Ireland also reportedly include loans of more than £100m that were made to the main Northern Ireland company of Paddy McKillen, the high-profile property developer.
Development land
The Titanic Quarter loans have a face value of around £70m and relate to the Arc Apartments and Gateway Offices.
The loans advanced to Paddy McKillen's Belfast Office Properties are secured on properties that included Ards Shopping Centre, the Waterfront Plaza office block in Belfast and Mallusk Industrial Estate in Newtownabbey.
Other loans for sale include around £60m that was lent to the Newry-based Murdock Group for investments in England including a a hotel, two nursing homes and development land.
Ulster Bank has already sold a smaller package of loans known as Project Button.
That portfolio included more than £50m of loans that had been made to the Belfast property firm Corbo.
The Corbo loans were bought by a consortium of Deutsche Bank and two US-investment funds.
Drastically reduce
Ulster Bank is working to drastically reduce its property loan book over the next two years.
Aside from loan sales, it has also been working with some of its borrowers to sell assets and restructure borrowings.
A portfolio of shopping centres that it had funded with loans of more than £500m has recently been sold, mainly to US investment funds.
The Portadown-based Turkington Group, which also had significant Ulster Bank borrowings, has sold most of its investment properties over the last year.
Valto, a firm owned by brothers Shamus and Francis Jennings, that had Ulster Bank borrowings of about £120m, underwent restructuring last year.
It was placed into administration and some of Valto's main assets were sold to new companies controlled by the Jennings