'Rory McIlroy effect' inspiring young golfers in Belfast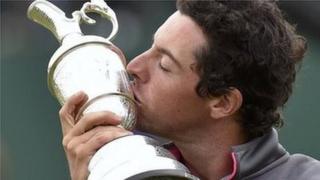 The success of Rory McIlroy has inspired young people to take up golf at an east Belfast club, according to its professional player.
Barry Wilson, who is based at Shandon Park Golf Club, said "the Rory effect" was "bringing people into the game in droves".
On Sunday, the Holywood, County Down golfer won the Open championship.
He is only the third golfer after Tiger Woods and Jack Nicklaus to win three major tournaments by the age of 25.
Mr Wilson said the effect of McIlroy's success on young people was "incredible".
"They all want to be Rory. They're all out there swinging like Rory or hitting it like Rory or trying to be Rory," he said.
"From the time we started, we had a very small junior section. It was good but it was small. Since Rory hit the scene, it has exploded.
"We would have 100 kids here during the week now and 20 or 30 of them are girls. It's amazing how it just exploded and it's right down to Rory.
"When they see him play, they try to emulate what he does and it makes it much easier for us when we try to coach them.
"They have an understanding of how to swing it because they have watched Rory."
Mr Wilson said "the Rory effect" was not only evident in the number of young people taking up the game, but also in their commitment.
"The work ethic has changed in the last two years," he said. "We would have had a lot of casual golfers until Rory came on the scene.
"They practiced a bit, but they all wanted to play more than practice. Now the guys grind. They want to be on tour, doing what Rory is doing."
He added: "The hardest part for golf clubs is to get kids to stay in. They come in when they're 11 or 12 and enjoy it, but it doesn't stick.
"Now you see people like Rory on TV, or our own guy Michael Hoey and Graeme (McDowell). The Northern Ireland guys are pushing so hard and they're at the top of the game.
"They stick at it now and they become really good players. Not all of them will go onto the tour, but they'll stay as great members and they'll play at senior level for us.
"It might only be 10% or 15% who will stay - but that makes your golf club."
As for where the next McIlroy might come from, the Shandon Park pro name-checked two players from his own club, 16-year-old Chloe Weir and Cameron Mills, 18.
"We have a couple of superstars, we like to think," he said. "Chloe is playing off scratch and she is playing for Ireland, she has been a phenomenon for us.
"Cameron Mills is actually here this morning, out hitting balls and practicing away. He's going to be great. We've got high hopes for the two of them."