Gaza rally: Trouble at Belfast City Hall between rival protesters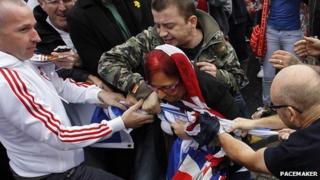 There have been scuffles between rival protesters during a pro-Palestinian rally in Belfast.
The rally, organised by the Irish Congress of Trade Unions (ICTU), was taking place outside Belfast City Hall at about 15:00 BST on Saturday, when trouble broke out between pro-Palestinian supporters and loyalist flag protesters.
Some of those involved in an earlier flag protest had waved an Israeli flag.
Police separated the two groups.
No arrests were made.