Dundonald house attack: Man's leg broken in assault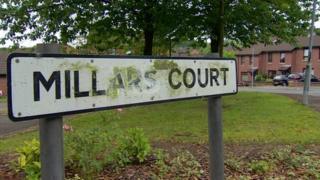 A man suffered a suspected broken leg and another man was hit on the head with a gun during an attack at a house in Dundonald, on the outskirts of east Belfast, early on Saturday.
A woman was also threatened with the gun during the incident at Millars Court shortly after midnight.
Two masked men threatened the woman, then assaulted a 22-year-old man with a hammer, breaking his leg.
They then hit an 18-year-old man on the head with the gun.
Both men were taken to hospital. Their injuries are not thought to be life-threatening.
Police have appealed for information.