Alliance Party east Belfast alert was a hoax, PSNI say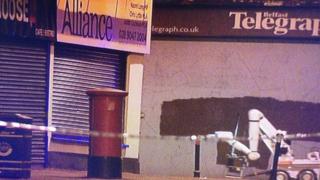 A suspicious package left outside an Alliance Party office in east Belfast has been declared a hoax.
Army explosives experts were called out to deal with a suspect package at the offices on the Newtownards Road on Friday night.
Roads were sealed off and traffic diverted as a controlled explosion was carried out.
The premises, used by East Belfast MP Naomi Long, have been targeted a number of times.
Most recently, petrol bomb attacks were carried out on the offices on consecutive nights in April and May.
The attacks began following a Belfast City Council vote in December 2012 restricting the flying of the union flag at the City Hall.
Condemning the latest hoax, Alliance MLA Chris Lyttle said: "It is a serious incident for the local area, it causes serious disruption, it puts people's lives at risk, it can prevent emergency services reaching the area.
"Ultimately we need people with information to share that with the police in order for them to do their job and bring these people to justice."