PSNI: Fresh information discovered in 'less than ten' On the Runs cases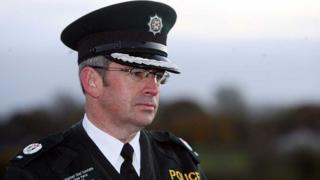 "Fresh information" has been discovered in a number of cases involving more than 200 republican On the Runs suspects, the PSNI has said.
ACC Drew Harris said the PSNI had identified a number of "critical" cases and submitted papers to the PPS.
He said there were "less than ten" cases in which fresh information had been identified.
On Thursday, the findings of a judge-led review into the On the Runs scheme found it was lawful and not an amnesty.
However, Lady Justice Hallett's review, ordered by Prime Minister David Cameron, found "significant systemic failures" in how it operated.
On The Runs were more than 200 republicans who received letters saying they were no longer wanted for questioning about crimes committed before the Good Friday Agreement in 1998.
The scheme was made public when the trial collapsed of a man suspected of the 1982 IRA Hyde Park bombing.
John Downey was wrongly told he was not wanted by any UK police force. However, he was still being sought by the Metropolitan Police.
Police in Northern Ireland are now reviewing the process that led to the issuing of the letters.
Speaking on BBC Radio Ulster's Good Morning Ulster programme on Friday, ACC Harris said the PSNI had submitted a number of papers to the Public Prosecution Service (PPS) to decide if fresh prosecutions could be sought.
He said: "We have set aside a group of 28 officers at this moment in time to look at these cases, both in terms of investigations and intelligence that there is against the 228 individuals within the scheme.
"Our work to date has been around some of the cases that we have identified as being critical and we have moved those forward and papers have been submitted to the PPS."
He said "fresh information" had been identified in "less than ten" of the cases that are being reviewed.
"We have identified cases primarily through HET (Historical Enquiries Team) reviews where there is fresh information, but also as a consequence of other serious crime investigations, we have uncovered fresh information and other evidence," he said.
"Those cases will move forward. It's a small number at this moment in time - less than ten - but if it gathers momentum there may well be more cases that arise."
Pre-1973 offences
Meanwhile, the Northern Ireland Office has confirmed that people convicted of terrorist offences committed before 1973 did not qualify for the early release scheme introduced as part of the Good Friday Agreement.
According to the Hallett review, the former Labour secretary of state Mo Mowlam raised the case of a high profile republican with the former attorney general Lord Morris in 1999.
He considered the case but refused to give an undertaking not to prosecute.
The report said that even if the individual had been prosecuted and convicted they would not have qualified for early release because the alleged offence for which they were sought had been carried out before 1973.
The Northern Ireland Sentences Act 1998, which brought into force the early release scheme, defines a qualifying offence as one that is scheduled under the emergency provisions laws passed since 1973 - but makes no reference to crimes committed before that date.
More than 700 people died in the Troubles in the years between 1969 and 1972. More than 400 of these deaths have been blamed on republicans and nearly 150 on loyalists.