Visits from Republic of Ireland to Northern Ireland fall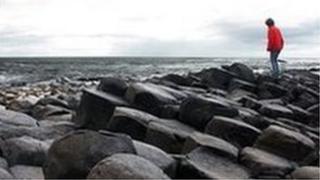 Latest tourism figures for Northern Ireland show a slight overall fall in the number of overnight trips but a steep decline in people visiting from the Republic of Ireland.
The figures are measured on a rolling annual basis.
The new figures compare the 12 months to March 2014 with the 12 months to March 2013.
They show a 1% fall in overnight visitor numbers but an 18% fall in those visiting from the Republic.
The report suggests the rise in the value of sterling against the euro and the dollar may have played a role in lowering demand.
There were a total of 4.1m overnight trips which generated spending of £735m compared to £707m in the previous 12 months.
The fall in visitors from the Republic of Ireland was partially offset by rises in visits from Great Britain (GB) and other countries.
Considered together, the number of overnight trips by GB and overseas visitors increased by 7% with expenditure up 12%.
Almost half of people who visit Northern Ireland do so to visit friends or family, but the numbers coming for a holiday showed an annual rise of 2%.
The growth in holiday visits was due to GB residents (+5%), other overseas (+7%) and the NI domestic market (+3%).
However, there was a big fall in the number of Republic of Ireland residents coming to NI for a holiday (-21%).