Kincora: Keith Vaz calls for east Belfast home to be included in UK child abuse investigation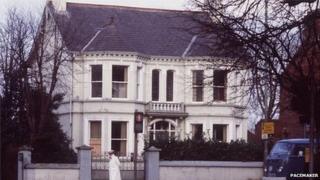 The chair of a Westminster committee has said an expert from NI should be included in a new investigation into child abuse across the UK.
Keith Vaz said that was because the controversy around the Kincora Boys' Home still resonates so strongly and caused such deep concerns.
In 1981, three senior care staff at the east Belfast home were jailed for abusing 11 boys.
It has been claimed that people of the "highest profile" were connected.
"I think it needs settling, it's been around for so long," Mr Vaz said.
"It's caused so much concern to individual MPs from Northern Ireland that we need to once and for all deal with this problem.
"With a big inquiry such as the one that Theresa May has suggested, it's important that it be included and that someone from Northern Ireland sits on the panel of experts."
Peter Saunders, the head of a support organisation for victims of child abuse, said senior politicians were linked to the sex abuse allegations.
He called for the east Belfast home to be part of a government inquiry into child sex abuse.
Mr Saunders, the chief executive of Napac (National Association of People Abused in Childhood), said the crimes at Kincora had been "swept under the carpet for generations".
He told BBC Radio Ulster's Good Morning Ulster: "I cannot name names on live radio, but there are certainly names of the highest profile connected with these outrageous crimes.
'Danger'
"Files have been destroyed, there is no question of that, and in itself that indicates the very seriousness of this situation.
"The truth has to out. If the truth doesn't come out, then our children remain in danger for the future."
Mr Saunders joined calls to extend the Westminster inquiry into child sex abuse to include Kincora.
Amnesty International and politicians, including the former Mayor of London Ken Livingstone, have already called for its remit to be widened.
The inquiry is being set up to examine how public institutions handled their duty of care to protect children from paedophiles.
On Monday, Lady Butler-Sloss stepped down as the head of the inquiry saying she was "not the right person" for the job.
She had faced pressure to quit from MPs and victims concerned about her family links, because her late brother, Sir Michael Havers, was attorney general in the 1980s.
'Whitewash'
Mr Saunders said he had "little confidence in the establishment" to appoint an "appropriate person" to head up the inquiry.
"I think it has to be somebody who is not sitting on one of those green or red benches in the Houses of Parliament, although there are some very good people there.
"I think we have to be careful, in whoever is appointed has to have the confidence of survivors and victims.
"Otherwise, I suspect, as with many inquiries of that nature, the prospect of a very professional, very well organised whitewash is a possibility.
"We cannot accept a whitewash, because we are talking about the future of our children's safety."
On Wednesday, a former PSNI assistant chief constable said that allegations that British intelligence services were linked to Kincora "need to be investigated".
Alan McQuillan said he had no proof of security service involvement, but that he believed that the claims were "potentially credible".
Last week, Amnesty's NI director, Patrick Corrigan said there were fears that there were "many more victims and abusers" at Kincora, during the period between 1960 and 1980.
He said: "Allegations have persisted that paedophilia at Kincora was linked to British intelligence services, with claims that visitors to the home included members of the military, politicians and civil servants, and that police investigations into abuse at Kincora were blocked by the Ministry of Defence and MI5."