Call for attacks on NI ambulances to stop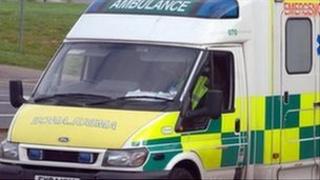 The Northern Ireland Ambulance Service (NIAS) has called for an end to attacks on ambulances, after six vehicles were attacked within ten days.
In the latest attack on Tuesday, a window was smashed in a rapid response paramedic vehicle en route to a shooting at Turf Lodge in Belfast.
The NIAS said the vehicle was travelling at high speed and the driver could have lost control of the wheel.
It said "stiffer custodial sentences" should be issued to those responsible.
Speaking on BBC Radio Ulster's Good Morning Ulster programme on Thursday, NIAS spokesman John McPoland said he was "very concerned" by the recent spate of attacks.
"It is not acceptable. It does cause you a great deal of shock to have something hit your vehicle," he said.
"At the speed he was driving, it could potentially have resulted in him losing control of the car.
"In fact the people who threw that brick, or whatever it was that hit the car, they could have suffered as a result of it because he could have lost control and ploughed into them, or worse still, a family coming down the road in the other direction.
"I shudder to think what could have happened."
'Zero tolerance'
John McPoland said the NIAS had no hesitation in calling for "tougher sentences" to be handed down to those responsible for the attacks.
He said: "Unfortunately over the past couple of years, attacks have increased quite dramatically and we are calling - and we make no apology in calling - for tougher sentences.
"What we did find a number of years ago, was that people were going to the courts and putting forward mitigating circumstances, like they had alcohol on board, and that does not cut any ice with our crews actually.
"We don't think there is any excuse. We have zero tolerance towards these attacks on our crews."
He added that despite a number of NIAS education schemes with the community to deter further incidents, there is still a difficulty in ensuring ambulance crews can work without the fear of being attacked.
He said: "Our work with the local communities has been very beneficial, but we have limited resources in what we can do in terms of engaging with the public. These attacks do put the community at risk and we need to get that message out as strongly as we can."