Woman arrested as County Armagh fuel plant found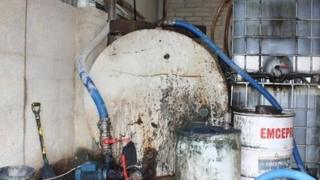 A 55-year-old woman has been arrested after a laundering plant capable of producing nearly 3.6m litres of illicit fuel a year was discovered in County Armagh.
The plant was found during a search of domestic premises on Tuesday.
HM Revenue and Customs said the plant was capable of evading over £2m in lost duty and taxes
Four tonnes of toxic waste were removed from the site and plant machinery was seized.
A Customs spokesman said they could not be more specific as to where in County Armagh the plant was.