Kincora: Claims against intelligence services 'need to be' examined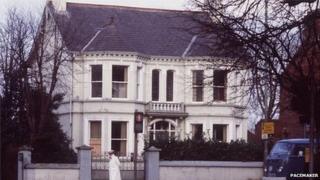 Allegations that abuse at Kincora Boys' Home was linked to British intelligence services "need to be investigated", a former PSNI assistant chief constable has said.
Alan McQuillan said he had no proof of security service involvement, but that the claims were "potentially credible".
It follows calls for the east Belfast home to be included in a government inquiry into child sex abuse.
In 1981, three senior care staff at the home were jailed for abusing 11 boys.
Speaking on Radio Ulster's Nolan Show on Wednesday, Alan McQuillan said, considering the context around the time that the abuse was alleged to have occurred, he believed it was "potentially credible" that intelligence services may have been involved.
He said: "The allegation is there and it needs to be investigated. I do not know if it did happen, but I have to say, due to everything that was going on at the time, it could have happened.
"Effectively when Kincora was at its peak we had undeclared martial law here, the police service had collapsed, the army were in charge of security.
"There were all sorts of very strange things and some very strange people operating in Belfast and other parts of Northern Ireland, as part of the security operations.
"There are issues around the circumstances in which the police investigation in the mid-70s was closed down. All of that needs to be opened up and examined."
Duty of care
Amnesty International and politicians, including the former Mayor of London Ken Livingstone, have already called for the remit of the Westminster inquiry to be widened to include Kincora.
The inquiry is being set up to examine how public institutions handled their duty of care to protect children from paedophiles.
Last week, Amnesty's NI director, Patrick Corrigan said there were fears that there were "many more victims and abusers" at Kincora, during the period between 1960 and 1980.
He said: "Allegations have persisted that paedophilia at Kincora was linked to British intelligence services, with claims that visitors to the home included members of the military, politicians and civil servants, and that police investigations into abuse at Kincora were blocked by the Ministry of Defence and MI5."
'Co-operation'
On Monday, Lady Butler-Sloss stepped down as the head of the inquiry saying she was "not the right person" for the job.
She had faced pressure to quit from MPs and victims concerned about her family links, because her late brother, Sir Michael Havers, was attorney general in the 1980s.
Lady Butler-Sloss said she "did not sufficiently consider" whether her family links would cause difficulties in the inquiry. Downing Street said it would "take a few days" to appoint a new chairman.
Alan McQuillan said getting Kincora included as part of the Westminster inquiry to examine the allegations surrounding the home was vital.
"We are looking at this with a very different light today, compared to what was considered even in the 80s and 90s," he said.
"We have seen so much more about what was going on in certain areas, and we are much more aware of the different issues surrounding child abuse now.
"But unless you get the active co-operation of the British governments and relevant agencies, then any investigation or public inquiry will get you nowhere. You need that level of co-operation and assistance."