On the Runs: Murphy says courts should allow spy evidence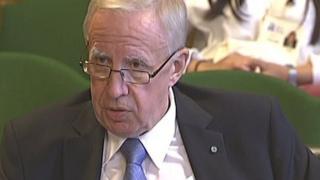 Material intercepted by intelligence agencies should be allowed as evidence, a former NI secretary has said.
Paul Murphy said this would have meant prosecutions could have been brought against many murder suspects.
He was giving evidence to the Northern Ireland Affairs Committee investigating letters to "on the run" paramilitaries.
A senior policeman previously told the committee that intelligence material linked 95 of those who received letters to 295 murders during the Troubles.
The MPs are examining how over 200 people were told they were no longer wanted for paramilitary crimes committed before the 1998 Good Friday Agreement.
On The Runs are those suspected, but not convicted of paramilitary offences.
'Monumental cock-up'
Mr Murphy, who was secretary of state from 2002 to 2005, was asked by MPs of his view on intelligence evidence.
"So long as this country will not allow the use of intercept as evidence in court then it's not evidence," said the Labour MP.
"Now my own personal view, which I expressed when I was chair of the Intelligence and Security Committee (at Westminster), was it should be allowed because the times that I have read names, right across the spectrum in Northern Ireland, of people who had done terrible things but couldn't be prosecuted because there was no evidence allowable, was very often very distressing.
"I would often ask the question, 'why on earth can't we prosecute this person?'
"And we couldn't because the evidence gathered in the way it was could not be used in courts.
"Which is why I say I think it is wrong not to be able to use intercept, which most countries can."
Mr Murphy said that while he was aware during his time in office of the wider issue of "on the runs", the letters scheme was designed as a purely administrative process and not considered a high priority.
"I'm not saying I didn't know about it, but I cannot recall certainly it being an issue in the way it developed into as the years went by," he said.
The scheme became the focus of controversy after the collapse in February of a case against County Donegal man John Downey for the 1982 IRA murder of four soldiers in Hyde Park.
The case collapsed after it emerged he had been sent a government letter in 2007 confirming he was not being pursued by UK authorities.
Mr Murphy said the events that led to Mr Downey's letter being sent was a "monumental cock-up".
"The problem with what happened with Downey, and we hope no more, of course we won't know that until it's properly reviewed, is that if it's a letter to a person that is completely cleared by all the police forces concerned, then that is a pure administrative issue - 'you can come back, we don't want you any more'," said Mr Murphy.
"On the other hand, if the letter is a mistake and they got it wrong, big time, then we have all the enormous consequences of that mistake, where trials are not held, victims are obviously in a terrible state over it, and the general public are very, very concerned about it.
"But that's really because in his case presumably he is still wanted, (although) now it's finished because of what's happened."
The findings of a separate review by Lady Justice Hallett, commissioned by Prime Minister David Cameron, are to be outlined in parliament on Thursday.