Kincora victim: 'NI home should be part of UK child abuse inquiry'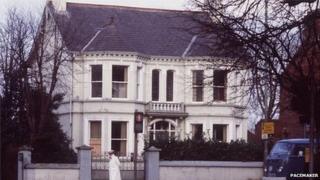 A man who was abused at Kincora Boys' Home in east Belfast has said the home should be included in a government inquiry into child sex abuse.
Clint Massey has waived his right to anonymity to speak about how he was abused by William McGrath in 1973.
McGrath and two other members of staff at the home - William Semple and Joseph Mains - were jailed in 1981 for abusing children in their care.
Mr Massey said: "I strongly believe there's a lot more to come out."
'More suspicious'
He was 16 and had just left school when he was sent to Kincora.
He said: "The mornings were the worst times. I didn't start work until ten o'clock.
"The other two guys who shared the room were up at half six in the morning and gone by seven.
"I didn't wake up until half eight. That was when McGrath had me at his mercy. There was nobody in the house except for just those three men and me."
Mr Massey told the BBC he "did everything possible to stay out of the place", often going back to his former children's home to stay the night.
He said that the staff at the home were regarded as "pillars of society".
Mr Massey has long suspected that the full story of what happened at Kincora has not been revealed.
"The authorities knew what was going on," he claimed.
"When I walked in there, there were people high up who knew exactly what I was walking into. They just let me walk into it."
Amnesty International and politicians, including the former Mayor of London Ken Livingstone, have called for Kincora to be included in an inquiry into child sex abuse announced by the Westminster government.
The inquiry is being set up to examine how public institutions handled their duty of care to protect children from paedophiles.
On Monday, Lady Butler-Sloss stepped down as the head of the inquiry saying she was "not the right person" for the job.
She had faced pressure to quit from MPs and victims concerned about her family links, because her late brother, Sir Michael Havers, was attorney general in the 1980s.
Lady Butler-Sloss said she "did not sufficiently consider" whether her family links would cause difficulties in the inquiry.
Downing Street said it would "take a few days" to appoint a new chairman and appeared to indicate that whoever was chosen would not be so closely linked to the establishment.
'Persistent rumours'
Ulster Unionist leader Mike Nesbitt backed Mr Massey's call.
"For most of my adult life, there have been persistent rumours about who was either involved, or knew of what was going on but said nothing," he said.
"It is long past the time when we pay our debt to the victims by exposing the wrong-doing that took place at Kincora."
However, Northern Ireland Deputy First Minister Martin McGuinness said there should be an independent, international inquiry into Kincora.
"The British state is clearly incapable of investigating itself," he said.
"Therefore, to be effective, any inquiry into the abuse of children at the Kincora Boys Home during the 1980s needs to be international, independent and have the powers to subpoena witnesses and access documents."
DUP assembly member Robin Newton said: "The scandal of the Kincora Boys' Home continues to taint east Belfast and those who suffered abuse within its walls need justice.
"The abused victims need to know why their plight was ignored and who was involved in their abuse."
Amnesty's Northern Ireland director Patrick Corrigan said allegations had persisted that paedophilia at Kincora was linked to British intelligence services.
He said: "There are claims that visitors to the home included members of the military, politicians and civil servants, and that police investigations were blocked by the Ministry of Defence and MI5."
Mr Massey agreed that the inquiry should look at Kincora.
He said of the government: "All they do is make me more suspicious of them."
"You owe the government a pound, they'll chase you to the end of the world for it. Yet they lose all these files? It doesn't make sense to me."
'Very embittered'
Mr Massey said he had heard the names of some people who were alleged to have had links to the home, but he did not personally see any of them at Kincora.
He spoke about his hope that the result of the ongoing inquiry into Historical Institutional Abuse in Northern Ireland, being held in Banbridge Courthouse in County Down, would be an official apology.
"I just want the state to say 'Clint, we did you wrong, we let you down'.
"Because they did let me down - big, big time," Mr Massey said.
He said his experience of being abused had left him "a very embittered, sad, lonely man at times."
"I have not been in contact with anyone from Kincora so I don't know what their lives are like. But if they're like mine, it's an empty life."