WW2 mortar bomb made safe in Mournes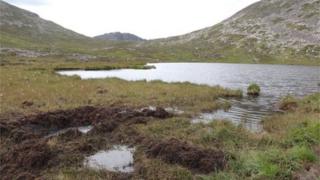 A mortar bomb thought to date back to World War Two has been found in the Mourne Mountains.
The shell was discovered in the Blue Lough area, near Annalong, County Down.
It was made safe on Sunday by bomb experts who carried out a controlled explosion.
The area had been used during and after WW2 as an artillery firing range, and according to one mountain volunteer, "bits and pieces" of bombs are still being found years later.
"It was usually the navy who fired shells from the bay up into the Annalong valley, but this one would have been fired from a howitzer on the ground," said Mourne Heritage volunteer Seamus King.
"We're usually warning people about the erosion and the weather in the mountains, but this is another reason why people shouldn't stray off the paths.
"With the erosion, these are going to come to the surface more often and that is the danger."