Garth Brooks Dublin concerts refunds delayed amid talks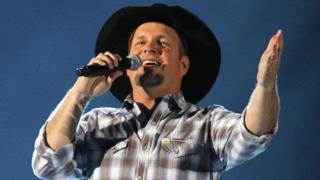 The website that sold tickets for five Garth Brooks concerts in Dublin, has delayed its refund process in the hopes they can still go ahead.
The US country singer had planned to stage the concerts at Croke Park between Friday 25 and Tuesday 29 July.
However, earlier this month, the council granted a licence for only three concerts following objections from some residents.
Brooks has repeatedly insisted he will play all five concerts or none at all.
All the shows were called off last Tuesday.
Ticketmaster has asked fans who bought tickets to be patient.
In a statement it said: "Ticketmaster understands that negotiations to try and find a resolution to the Garth Brooks concerts situation are still ongoing.
"As a result, Ticketmaster will be delaying commencement of the refunds process until Thursday, July 17th.
"We would ask fans to continue to be patient and to hold on to their tickets for now."
Dublin Lord Mayor Christy Burke said he believed some progress has been made in reaching an agreement over the staging of the Garth Brooks concerts.
Mr Burke said talks were ongoing between the Department of the Environment and the city manager, Owen Keegan.
Irish Deputy Prime Minister Joan Burton said there may be a window of possibility in reaching an agreement over the five performances.
Licensing system reviewed
Meanwhile, the country's Department of the Environment has announced a review of the concert licensing system in the wake of the cancellation of the five concerts.
"I will be taking firm steps to ensure we will never be at this ridiculous juncture again as it is not in anyone's interests," Environment Minister Alan Kelly said.
"I am committed to a carrying out a wholesale review of the way major events are handled and this will be progressed in the coming months as opposed to carrying it out in a rushed manner that is in neither the interests of concert-goers, residents or the planning system in general."
Mr Kelly added: "I believe this situation can only be solved by all the parties coming together in an atmosphere of calm and with all sides being flexible in their approach.
"If this happens, I would be optimistic that the common good and common sense will prevail as the distance between all parties is not insurmountable."