NI secretary of state praises 'peaceful' 12 July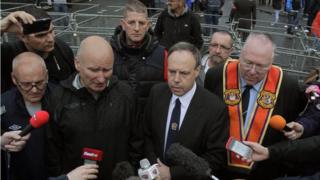 The Orange Order and unionist leaders have been praised by Northern Ireland's secretary of state, who welcomed the "most peaceful" 12 July in years.
Theresa Villiers said they were to be "commended for the intensive work" they did to prevent a repeat of violence over a contentious north Belfast march.
The police and the Parades Commission also praised efforts to reduce tension.
The Democratic Unionist Party said the protest had created "breathing space" but had not resolved the dispute.
'Dignified protest'
First Minister Peter Robinson, who leads the DUP, said: "The campaign for tolerance and respect for our culture has been strengthened and will continue."
The party's MP for North Belfast, Nigel Dodds, called on nationalists and republicans to respond to the "dignified protest" by working towards a future resolution.
There were no incidents on Saturday as the return leg of the contentious march was stopped from passing a sectarian flashpoint at Ardoyne, north Belfast.
Unionists had protested against a Parades Commission ruling to bar the feeder parade from passing a stretch of Belfast's Crumlin Road on the evening of 12 July.
The section of road separates unionist and nationalist areas, and has been the scene of violent protests in recent years.
But this year, the marchers held a short protest at the point at which police stopped their parade, listened to music and a protest speech, and then dispersed without further incident.
In a statement on Sunday, Ms Villiers said: 'I warmly welcome the fact that this year's 12 July parades have been the most peaceful in recent years.
"The Orange Order and unionist leaders are to be commended for the intensive work they have done to bring that about.
"Nationalist leaders also played their part in working hard to defuse local tensions," she added.
'Tolerance'
A spokesperson for the Parades Commission said: "The work which takes place at grassroots level by parade and protest organisers, and local politicians is challenging but invaluable.
"Reducing tension and instances of public disorder is an encouraging backdrop against which to address outstanding parading issues through sincere, meaningful and sustained dialogue."
However, the Orange Order and unionist leaders have vowed to continue their protest against the existence of the Parades Commission.
Orange Order Grand Master Edward Stevenson said there was a "united and determined resolve, as the Orange and Unionist family peacefully demonstrated against the shambolic Parades Commission, and the ongoing demonisation by republicans of our parading traditions and expressions of British identity".
Mr Dodds said the "tolerance" that was shown to the outward leg of the parade on Saturday morning could also be given to the return parade in future.
He told the BBC: "Let's see whether or not the breathing space that has been created is translated into reaction - not just in words form nationalist leaders - but in terms of their actions, to put their talk of tolerance and respect into action.
'Cool heads'
Justice Minister David Ford congratulated the police for their "professionalism" and praised community efforts that helped to ensure a "day of peaceful parades".
"This year we have shown how cool heads and careful words helped to keep the situation calm and I would hope that approach continues so we can work towards resolution of all contentious parades."
Chief Constable George Hamilton commended the "responsible attitude" of those involved in organising this year's 12 July marches.
More than 3,000 officers were on duty across Northern Ireland to police the biggest day in the Orange Order's marching season.
Protest speech
When the Belfast feeder parade was stopped at the same point last year, rioting erupted and continued for several nights in the Woodvale area, with scores of police officers injured.
But this year, Orange Order marshals formed a line across the Woodvale Road, a short distance from a police barrier.
The marchers walked as far as the marshals' line where they stopped and listened to a protest speech by the Orange Order's Belfast deputy county grand master, Spencer Beattie.
Bands played music, supporters cheered and a short time later the marchers walked back down the Woodvale Road without further incident.