Scarva: Thousands attend annual 'Sham Fight'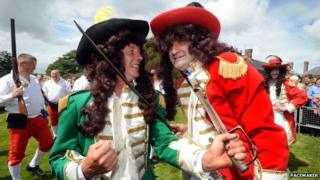 Thousands of spectators have attended the annual Sham Fight in the County Down village of Scarva.
The event is a theatrical re-enactment of the victory of William III of Orange over the Catholic King James II at the Battle of the Boyne in 1690.
About 20 actors and four horses take part in the re-enactment, organised by the Royal Black Preceptory.
The institution also laid a wreath in tribute to security force members who were murdered during the Troubles.
In addition, they marked the centenary of the outbreak of World War One during the ceremony.
'Special occasion'
Millar Farr, sovereign grand master of the Royal Black Institution, said: "The Sham Fight is a very special occasion every year, but we think 2014 will break all records.
"We know there are many members of the Royal Black Institution joining the parade for the very first time. That is bound to swell our numbers.
"It is without doubt the biggest one-day event, at a single location, in Northern Ireland."
The Battle of the Boyne took place in a field outside Drogheda in what is now the Republic of Ireland.
James II, who had converted to Catholicism about 20 years earlier, fled from England and lost his crown to his son-in-law William of Orange, a Dutch-born Protestant.
Death in exile
In March 1689, James II landed in Ireland and raised an army with French support.
His aim was to use Ireland as a base to invade England and regain his throne.
In response, William of Orange, also known as King Billy, raised a huge invasion force, the largest Ireland had ever seen.
William decisively defeated his father-in-law's forces and continued to rule for the next 12 years.
James died in exile in France in 1701.
William died the following year, weeks after a horse-riding accident.