Belfast stabbings: Three injured in separate incidents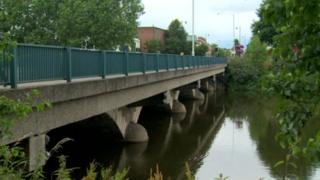 Three men have been injured in separate overnight knife attacks in Belfast.
A 28-year-old man was stabbed during sectarian clashes at Ormeau Bridge, south Belfast. Police separated rival gangs of loyalists and republicans.
In east Belfast, a 21-year-old man was stabbed in Montrose Street. Neither victim has life-threatening injuries.
A 19-year-old man was stabbed in the back at Mountainhill Road, Ligoniel, north Belfast at about 01:20 BST. He is in a stable condition in hospital.
In the south Belfast attack, police said they received a report at about 03:10 BST that there had been a knife attack at Ormeau Bridge and that "rival factions were fighting in the area".
Officers separated the two groups and remained in the vicinity for several hours "to ensure that the area remained calm".
'Shocked'
South Belfast Assembly Member Anna Lo said about 40 people were involved in the Ormeau Bridge clashes.
"I am shocked that this sectarian fight has taken place in south Belfast. Those who took part should be ashamed of themselves," the Alliance MLA said.
"I would appeal for calm in the area and urge people not to get involved in such behaviour. This sort of incident can do damage to community relations in the area," Ms Lo added.
Meanwhile, detectives investigating the Montrose Street attack arrested a 24-year-old man.
He was questioned on suspicion of causing grievous bodily harm (GBH) with intent but has since been released on police bail pending further inquiries.
In the Ligoniel investigation, police are seeking two men who left the area in a silver Clio car in the direction of the Antrim Road. No arrests have been made.
Detectives have appealed to anyone who witnessed any of the three attacks to contact them.