Dunanney Centre "gutted" in Rathcoole petrol bomb attack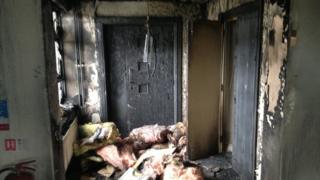 A petrol bomb attack has "gutted" a centre that houses community services in Newtownabbey, County Antrim.
Ceilings have come down and several windows have been smashed during the overnight attack on the Dunanney Centre, in the Rathcoole estate.
The chair of the centre, Pat Hutchinson, said the building has been left in an "absolute mess" and it was the second arson attack this year.
Ms Hutchinson said she had no idea who was responsible for the damage.
"The top of the building is gutted, the ceilings are down and there's black smoke everywhere. It's just an absolute mess," she told BBC Radio Ulster.
'Absolute disgrace'
In addition to her role as chair of the Dunanney Centre, Ms Hutchinson is the district manager of the Citizens' Advice Bureau, which is one of the services housed in the building.
She said that the centre was a "lifeline to the community" with about 200 people using its services every day, from "babies to pensioners".
"It just beggars belief that somebody would do this, this centre is the heart of Rathcoole," Ms Hutchinson said.
"The Citizens' Advice Bureau is the busiest in Northern Ireland . This place never stops - we've Sure Start, Bryson Future Skills which helps people find work - it's an absolute disgrace."
The attack was reported to the emergency services at about 00:10 BST on Saturday and firefighters were called to deal with the blaze.
The police said a number of stones were also thrown at the building during the attack but no-one was injured.
'No heating'
Ms Hutchinson said staff at the centre faced an "awful job" trying to clean up the damage, and they had not yet finished fixing the problems caused by the previous arson attack.
"We were attacked at Easter, when the boiler house was completely gutted which meant we had no heating, no water, no electricity for a long time.
"That still hasn't even been sorted yet, we still don't have any heating in the centre," she added.
Ms Hutchinson said she has no idea who carried out the latest attack and no-one has been arrested over the previous arson incident either.
She added that staff hope to open part of the building on Monday, but one side will be out of bounds due to the damage.