Burglar jailed for Belfast student house attack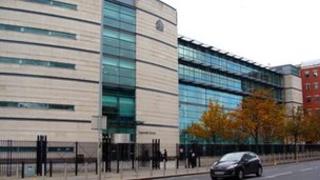 A man who broke into a student house in south Belfast and attacked one of the occupants has been jailed.
Ciaran McMurray, 29, of Rugby Avenue, and an accomplice robbed the house last September, Belfast Crown Court heard.
When the student was awoken at 4am by the sound of breaking glass, he tried to restrain McMurray who punched him and bit his earlobe.
McMurray admitted assault, burglary and theft, criminal damage and making threats to damage property.
He was appearing in court alongside Kieron Matthew Sean Brown, 19, of Woodvale Street in the city.
'Drunk'
The two men had met in a hostel and barely knew each other before the break-in at University Street, the court heard.
A prosecution lawyer said that after the altercation, McMurray had told the student he would come back with hurling sticks and burn down the house.
Brown's lawyer said he "couldn't remember but doesn't dispute" the incident, adding that his role was limited as "he seems to have disassociated himself from a confrontation by simply leaving the house when the occupant came down the stairs".
He had told police: "I'm sorry if I entered the building. I don't remember - I was so drunk."
A lawyer for McMurray said there were "a number of traumatic incidents" in his client's past that had contributed to "struggles with substances and alcohol".
'Unfortunate and unsavoury'
He acknowledged it was a "serious offence".
The judge said it was an "unfortunate and unsavoury" incident, and while it was one thing to break into a house in the middle of the night, it was "entirely inappropriate" to attack the occupant.
He said McMurray's threat to the student would have weighed heavily on not just his mind, but also those of his two housemates.
McMurray was given a two and a half year jail sentence, half of which will be spent on licence.
He was also ordered to spend an extra six months in custody, having breached a previous suspended sentence.
Brown was placed on probation for two years and ordered to serve 100 hours' community service.