Garth Brooks Dublin concert hearing delayed for more talks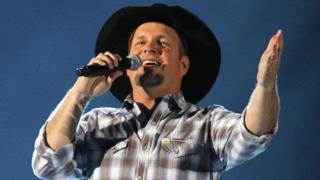 An Irish government committee hearing on why Garth Brooks' five Dublin gigs were shelved has been postponed, as talks to salvage the shows continue.
The concert promoter and a senior GAA official were due to appear before politicians on Friday.
However, the Oireachtas Joint Committee on Transport and Communications said it wanted to "provide the space for negotiations to continue unimpeded".
Brooks has ruled out replacing two shows with matinee performances.
'Not feasible'
The US country singer had planned to stage five concerts at Croke Park between Friday 25 July and Tuesday 29 July, but earlier this month, the council only granted a licence for three concerts following objections from some residents.
Dublin City Council said on Thursday it had accepted a proposal by Aiken Promotions for afternoon shows, as these would still fall within the three-day licence it had granted.
The idea was criticised by Brooks, and the promoter later said it was "not feasible".
Ruling out playing two concerts on Saturday and Sunday between 2pm and 6pm, then 8pm to 11pm, Brooks said: "To treat 160,000 people differently than all the rest and to see a show other than how it was meant and created is wrong."
Brooks has repeatedly insisted he will play all five concerts or none at all.
The shows were called off on Tuesday and ticket-holders have been given information on how to obtain refunds.
Despite this, fans are holding out hope that the concerts will still go ahead, as talks about finding a solution continue.
Brooks told a news conference in Nashville on Thursday that if Irish prime minister Enda Kenny wanted to speak with him, he would "crawl, swim and fly over".
On Friday, it emerged that the singer's manager has sent an e-mail to Mr Kenny appealing for him to reinstate five concerts.