Work may need to be done on Stormont structures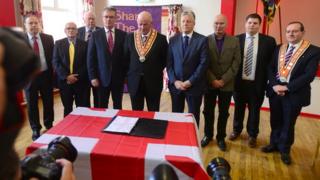 The unified unionist response to the Parades Commission's ruling on a north Belfast parade - the "graduated response" - remains a mystery despite a joint press conference on Thursday.
Indeed, when asked if it meant ultimately pulling the plug on Stormont, neither main unionist party gave a firm guarantee of continuing support.
Nor did they threaten to walk away.
UKIP assembly member David McNarry, who was not present, was very clear, however, what he thought of such a notion.
Speaking on BBC Northern Ireland's The View on Thursday night, he said: "Stormont can't be placed in any kind of jeopardy.
"I do hear talk - very foolhardy and reckless talk - about bringing Stormont down and anybody saying that, first of all, isn't a unionist. We have an opportunity with Stormont, it's not perfect, but it is ours."
'Nuclear option'
The SDLP's Alban Maginness said he regarded an unravelling of power-sharing as the "nuclear option".
He said this was "very dangerous territory" and "serious, realistic politics".
What the DUP leader and First Minister Peter Robinson did say at the joint unionist news conference was that Stormont was among political bodies that would be impacted by the protest.
Stormont is already facing a number of storms over issues that include flags protests, parading disputes (though it has no responsibility for this issue), the past, welfare reform and money.
Cracks showing
Cracks indeed are showing in the system, with the first and deputy first ministers falling out very publicly over Mr Robinson's unilateral decision to cancel the Maze project.
The strains come amid speculation and rumour at Stormont that Mr Robinson might step down in September.
Mr McNarry said he would not be surprised. He added that he believed Mr Robinson was trying to deliver stability in the face of pressures while maintaining a firm stance.
Eamon Delaney, a former diplomat from Dublin, said there was a southern view that Mr Robinson was trying to please the most hardline elements in his community and showing a lack of leadership.
He praised Sinn Féin's Martin McGuinness for his efforts on reconciliation, but claimed he too was being undermined by more tribal elements in his party. He also alleged the Sinn Féin leader was operating to a cross-border agenda, weighing southern interests against northern ones.
Mr Delaney said there was fault on both sides in terms of parties being too self-involved and failing to help each other.
He said the two governments needed to get involved in the political process and that Dublin should stop seeing Sinn Féin as a foe and a competitor.
Unionists could withdraw from power-sharing, opting to force an election next year for example. Power-sharing has long been a tough sell for unionist leaders, but don't they have more to lose than nationalists if it fails?
Alban Maginness said everyone would lose, but unionism could emerge weaker. He claimed every time unionists go to the negotiating table, they emerged with less.
Sam McBride, the News Letter's political correspondent, said both sides needed power-sharing for different reasons.
Bringing down Stormont would be unpopular with some sections of unionism, he said.
Sinn Féin, he said, needs to show voters in the Republic of Ireland that it can deliver stable government.
But he added it would be different if Sinn Féin could show unionists were to blame for any failure. "From a unionist perspective it is difficult to see where collapsing Stormont would get them," he said.
Unionist leaders may merely be offering a distraction and an alternative from summer violence in the hopes of getting through a difficult few months. Come the autumn, winter or next spring, will there be any real threat to Stormont at all?
It is a case of wait and see. Whatever unionism decides to do may depend on the prevailing circumstances at the time, and cynics might say, electoral considerations around next year's general election.
Unionism does appear, however, to be playing for time - perhaps realising that any sudden moves risks prolonged periods of no power at all.
Stormont is more likely than not here to stay. But there is scaffolding around it as its roof is being repaired - a metaphor perhaps for work that still needs to be done on political structures.