Detective James Nesbitt who jailed Shankill Butchers dies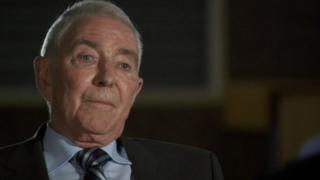 James Nesbitt, the detective who led the hunt for the notorious Shankill Butchers gang, has died aged 79.
During his career in the Royal Ulster Constabulary, Mr Nesbitt received 67 commendations.
In 1980, he was awarded an MBE "in recognition of his courage and success in combating terrorism".
The Shankill Butchers were a group of loyalist killers who conducted a sectarian reign of terror in Belfast between 1976 and 1978.
Mr Nesbitt died on Monday and is survived by his two sons.
Although he was involved in several high profile cases, it was for his work in bringing most of the Butchers gang to justice that he was best known.
During his time as head of CID at Tennent Street police station in Belfast, Mr Nesbitt and his team are said to have investigated 311 killings, solving about 250.
Many of the Shankill Butchers' victims were Catholic men, abducted in a taxi as they walked home from pubs in the city centre.
The police initially failed to link the killings but eventually caught up with the gang, several of whose members had links with the Ulster Volunteer Force (UVF).
Speaking in a BBC documentary in 2011, Mr Nesbitt refuted an accusation from a victim's family that not enough was done at the time to stop the murders.
"That's absolute nonsense," he said.
"These people were killers, they were killing innocent, purely innocent victims, people who were involved in nothing.
"Brutality, savagery, horrific killings and we wanted to catch them and we put every effort into catching them."
Mr Nesbitt's funeral service will take place on Friday.