Belfast city centre: Half of shops open on Twelfth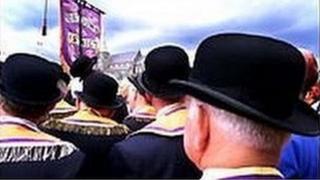 About half of Belfast city centre's shops will trade on the Twelfth, but most have low expectations for business.
The city's stores have opened on the main marching day for the past four years.
In 2010, 80% of shops opened, but that number has fallen in reaction to customers staying away.
Victoria Square and Castlecourt are among retailers who will open their doors between noon and 17:00 BST.
Others include Marks and Spencer, Boots and TKMaxx.
Trading hours are adjusted to avoid the time when the main Orange Order procession passes through the city centre.
This is the first year that Twelfth opening falls on a Saturday, the best day of any given week for retailers.
'Worst trading'
But one source told the BBC that businesses do not have high hopes.
"Think of the worst trading Monday and divide it by three," they said.
Some stores needed "real convincing" to open at all, said another, because "it is the quietest day of the year".
Added to minimal takings is the fact some shops have increased wage costs for opening on a holiday.
City centre retailers and the Orange Order first joined together to launch Twelfth opening in 2009.
They hoped it would benefit the economy and attract visitors to 'Orangefest'.
But the "fear of unrest" and road closures to facilitate marching have discouraged shoppers, according to several retailers.
Some city centre pubs have decided not to open and one restaurant the BBC contacted on Thursday morning said they had reservations for 15 people on Saturday evening.
Normally they would expect to serve 200 customers.