Villiers Loughgall killings inquest move criticised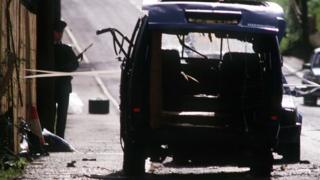 Nationalist politicians have criticised a move by Secretary of State Theresa Villiers to intervene in the case for a fresh inquest into the SAS killings of eight IRA men at Loughgall in 1987.
It was revealed in a letter from NI Attorney General John Larkin to the campaign group, the Committee on the Administration of Justice (CAJ).
In the letter, Mr Larkin said the move was "profoundly wrong in principle".
CAJ Director Brian Gormally said the families wanted a proper investigation.
'Spurious'
"I can only imagine what the families go through, when time after time, avenue after avenue is closed down to them," he said.
"From the point of view of justice and human rights, we need a proper investigation.
"It's why as solicitor for the families, we asked the attorney general to open a fresh inquest."
Undercover soldiers shot the IRA men as they approached Loughgall police station, in County Armagh, with a 200lb bomb in the bucket of a hijacked digger in May 1987.
A civilian, Anthony Hughes, was killed and his brother badly wounded when they were caught up in the gunfire.
His family received a full government apology earlier this year.
Darragh Mackin of Kevin Winters Solicitors, which represents four of the families, said they would seek a judicial review of the decision.
"This is a spurious application to delay the families' right to justice, and it has significant implications for a number of other inquests that are currently before the coroners in Northern Ireland," he said.
"The families, like ourselves, are very much in the dark as to how national security can be invoked when this case is of almost 30 years' vintage."
Mr Mackin said the move undermined the authority and independence of the attorney general, whom he believed had the power to deal with matters of national security.
"Even if he couldn't deal with it, that matter of sensitive disclosure could be dealt with by the inquest process which has the rights and remedies to deal with secret evidence and public interest immunity material."
Ms Villiers said the inquest decision had been referred to Northern Ireland's advocate general, Dominic Grieve, who is also attorney general for England and Wales, rather than Mr Larkin.
She said this was because matters of national security were involved,
"It is still the same decision about whether to have an inquest, it is just a different law officer who is making that decision," she said.
"In both cases, law officers act entirely independently of government, and in both cases exactly the same criteria are applied.
"It's just the law provides for a different decision maker where national security considerations are at stake because they continue to be reserved matters."
In his letter to the CAJ, Mr Larkin said he was "currently reflecting on the appropriate response".
SDLP assembly member Alban Maginness said the move was "politically wrong and legally questionable".
"The British government's intervention in the attorney general's well-considered decision gives very poor example to the political parties in Northern Ireland who are attempting to grapple with the issue of dealing with the past," he said.
Sinn Féin MP Michelle Gildernew said: "This is yet another example of the British government denying families the opportunity to get to the truth about the deaths of their loved ones.
"Cabinet ministers in London are once again showing complete disregard for families and instead are focusing on protecting their own interests."