TUV man wants to see evidence of 'graduated response'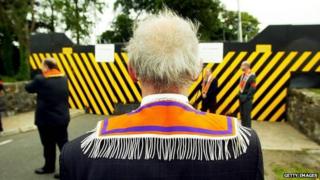 A senior TUV member has broken ranks with the main unionist parties over their joint response to the banning of a 12 July parade in north Belfast.
TUV leader Jim Allister last week co-signed a statement with other unionist leaders saying there would be a "graduated response" to the situation.
Vice chairman Richard Cairns said this "constructive work" would be "fruitless unless the public see evidence of the graduated response actually commencing".
He also criticised the DUP and Ulster Unionists for jointly releasing a statement calling for calm with the other Northern Ireland Executive parties, Sinn Féin, the SDLP and Alliance.
He said that while the statement may be seen as positive by the media, it would "do nothing to calm the situation on the ground".
"A joint statement with those who have done everything in their power to prevent not just the parade in north Belfast, but parades across Northern Ireland and tore the union flag from City Hall, will leave many wondering just how serious unionists in the executive are about the concerns of loyalists," he added.
'Peaceful summer'
The five Stormont executive parties issued a joint statement on Monday to appeal for calm over 12 July.
The statement said that "all parades and parades-related protests should be lawful".
It added: "The executive acknowledges the efforts of many to ensure a peaceful summer."
Last week, the Parades Commission, which issues determinations on contentious marches in Northern Ireland, barred a 12 July Orange Order parade from returning along part of the Crumlin Road in north Belfast.
In response, the DUP and Ulster Unionists pulled out of talks at Stormont on the flags, parades and the past.
In a joint statement, the DUP, UUP, Traditional Unionist Voice, Progressive Unionist Party and Ulster Political Research Group said they would cut contact with the Parades Commission.