Parading: Two-line executive statement leaves much unsaid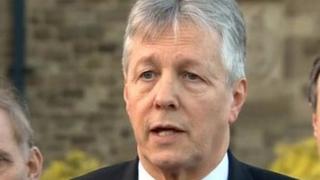 Politicians like nothing more than to confound pundits.
So, I detected a sense of satisfaction on the part of First Minister Peter Robinson as he told reporters that, far from being a shouting match like the executive's heated meeting in May, the ministers' discussion of Ardoyne and other recent parades decisions had been calm and measured.
That said, we are still in the dark over the promised unionist "graduated response" to the Parades Commission determination in north Belfast.
Sinn Féin's John O'Dowd said his understanding is that unionist ministers intend to continue to participate in future executive meetings, but Mr Robinson would not give any such guarantee.
The parties agreed a two-line statement agreeing that all parades and parade-related protests should be lawful and acknowledging the efforts made by many to ensure the summer is peaceful.
The terse nature of the latest statement contrasts with the comprehensive five paragraph communique they published at this stage last year.
It is also much shorter than a draft the Deputy First Minister, Martin McGuinness, circulated amongst ministers late last month.
As a hack, I'm in favour of brevity.
In this case, though, it doesn't appear to be "the soul of wit", more an indication of the difficulty our ministers have in agreeing anything more substantial when it comes to parades.