NI house prices 'could take 10 years to recover', says report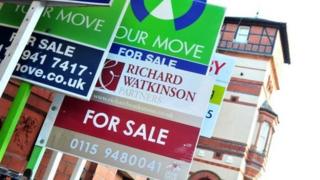 Property prices in Northern Ireland could take at least 10 years to recover to what they were before the market collapsed, according to a report.
Business services firm PricewaterhouseCoopers (PwC) said that prices are still around half of their peak values in August 2007.
This despite a recent "modest recovery" in prices.
Average prices in Scotland are 5% below peak and 3% in Wales.
PwC said Northern Ireland's "depressed" property market, high levels of negative equity and low levels of disposable income mean a slower economic recovery compared to the rest of the UK.
The report also suggested house prices in Northern Ireland will rise by almost 5% this year.
However, it expected growth to slow towards 2020 meaning it could be at least 2024 before prices return to boom time levels.