Sean Quinn: Group closer to securing businessman's former companies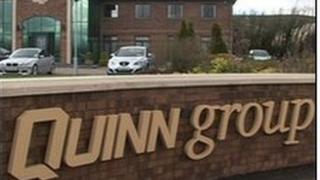 A group of businessmen have advanced their plans to purchase part of the former Sean Quinn group of companies.
The tentative deal includes former Quinn operations that employ more than 600 people in Fermanagh and Cavan.
The businessmen have formed a company called Quinn Business Retention Company Limited (QBRC).
A statement said due diligence had begun and the deal was expected to be completed later this year.
However it added: "There is no certainty that a transaction will be concluded."
The proposed purchase includes the packaging and construction industry supplies sectors of the former Quinn business in Derrylin, County Fermanagh, and Ballyconnell, County Cavan.
They are currently run by the Aventas Manufacturing Group.
Liam McCaffrey, a former senior executive in the Quinn Group, is now involved in QBRC.
He said: "We are excited with returning to these businesses which we previously worked in and managed.
"We will work with Aventas to facilitate stability in the local community."
No price has been put on the deal's value.
QBRC's backers were previously reported to include Fermanagh industrialist Ernie Fisher, Maghera-based John Bosco O'Hagan and Fine Gael county councillor John McCartin.