Belfast court told eastern European crime gang stole 120 BMWs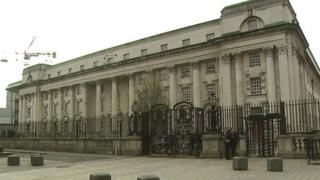 An eastern European crime gang has allegedly stolen 120 BMW cars in a sophisticated cross-border key cloning racket, the High Court has been told.
Prosecutors said the high-value cars were all taken from the greater Dublin area in the last 10 months.
They have then been moved to garages in Northern Ireland, the court was told.
Four men have been charged after a joint Garda (Irish police) and PSNI operation targeting premises in County Down and County Fermanagh.
One of them, 31-year-old Jevgenij Drozdov, is accused of handling stolen property.
The Latvian national, with an address at Devon Road in Birmingham, was arrested along with the other suspects after police searched a garage in Enniskillen on 27 May.
Officers discovered eight vehicles, six of them BMWs, and parts believed to have been taken from other stolen cars, the court heard.
During Mr Drozdov's bail application, it was claimed that he travelled over from England in a hired vehicle containing a car alarm signal jammer.
Key cloner
Searches carried out at the homes of his co-accused uncovered more stolen parts, laptop computers and a BMW key cloner.
A prosecuting counsel said: "Since September 2013 around 120 BMW cars have been stolen in the greater Dublin area.
"Police believe an eastern European organised crime gang is involved."
She told the judge that the thefts involved a high level of sophistication.
Electronic equipment was used to disable locks and read the vehicle management system.
"That enables a clone of the vehicle's key to be made," she said.
Opposing bail, she said police believe Mr Drozdov travelled over from England to assist in moving a stolen BMW from Dublin to Enniskillen.
She added that no similar car thefts have taken place since the arrests were made.
According to a defence lawyer, Mr Drozdov has lived in the UK for the last eight years and has no criminal record.
But his application was adjourned because his Birmingham address was deemed unsuitable.
Judge, Mr Justice Weir said: "There is no question of me bailing this man to an address outside Northern Ireland."