SDLP meet Irish leaders over unionist walkout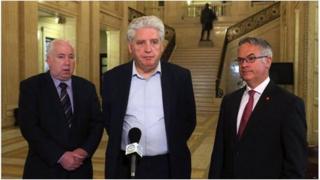 The SDLP are meeting Taoiseach Enda Kenny and deputy Joan Burton in Dublin to discuss the recent breakdown in talks in Northern Ireland.
On Thursday, unionist parties walked out of talks about contentious issues.
The were protesting at a Parades Commission decision to stop an Orange Order parade from returning along part of Belfast's Crumlin Road on 12 July.
SDLP leader Dr Alasdair McDonnell is leading a delegation that includes Alex Attwood, Joe Byrne and Karen McKevitt.
"It is essential that the British and Irish governments now become involved in the process, as co-guarantors of the Good Friday Agreement. We intend to repeat that call to the taoiseach this evening," Dr McDonnell said.
He said the situation in Northern Ireland had become "volatile".
"We know there was enough on the table to create the potential for a workable solution to the past, parading and flags if strong leadership was shown by all," he said.
"Walking away from dialogue is not leadership. We need people to get back to the discussion table, to stop the political brinkmanship and to start acting in the interests of healing our divided society."
Last Thursday, five unionist parties walked out of the talks on parades, flags and the past which were being held at Stormont.
'Graduated response'
The DUP, Ulster Unionists, Traditional Unionist Voice (TUV), Progressive Unionists (PUP) and Ulster Political Research Group (UPRG) earlier issued a joint statement in response to the Parades Commission's decision to stop the parade returning along the Crumlin Road in north Belfast.
The parties said it showed that "the commission members place no value on a relationship with unionism and have treated our advice with contempt".
The talks withdrawal was criticised by Sinn Féin, the SDLP and the Alliance Party, who warned it is likely to increase tensions.
Several nights of rioting took place after the same parade was stopped from returning along the road last year, with scores of officers injured.
A statement was issued by DUP leader Peter Robinson, UUP leader Mike Nesbitt, TUV leader Jim Allister, PUP leader Billy Hutchinson and Ian McLaughlin of the Ulster Political Research Group,
They said they had "pledged to work collectively on this issue".
"We do so to avert violence and destruction on our streets with the attendant harm that this would cause to Northern Ireland's community relations and reputation," they said.
They said there would be a "graduated unionist response" to the commission's ruling.
"Political action in tandem with peaceful and lawful protests is the path we must follow."
Sinn Féin's Martin McGuinness said he was disappointed by the decision.
"If it had gone the other way, we would absolutely have urged everybody to abide by that decision," he said.
"I hope that people will rise to this very difficult situation and show real leadership.