Carrickfergus Sailing Club reopens two years after fire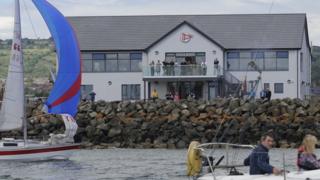 Carrickfergus Sailing Club has opened its newly restored clubhouse, two years after a fire destroyed the building.
The new clubhouse at Rodgers Quay was opened by Terry Windsor, who joined the club in 1955.
Up to seven fire appliances were sent to the clubhouse at Rodgers Quay on 23 June, 2012 as a major blaze swept through the building.
The next morning, club members met to begin drawing up a plan to restore the clubhouse.
The fire is believed to have started due to an electrical fault.
Club Commodore Trevor Kirkpatrick praised club members for their work in ensuring that the club's sailing calendar continued.
"It has been a difficult two years, but I am so delighted that we are back at the clubhouse that has been our home for the past 35 years. I would like to thank everyone in the sailing fraternity who rallied round and helped ensure this great club continued," he said.
"We are immensely proud of this new building that is not only much more environmentally friendly, but also has full disabled access. Carrickfergus is now very well placed to attract a host of major sailing events to our town.
"After the fire we were struck by the messages of support we received from sailing clubs as far away as Dublin. Our members really rose to the challenge, volunteering for extra duties and helping to clear up after the fire."
The deputy mayor of Carrickfergus, Lynn McClurg, who officiated at Saturday's event, said: "Despite the tragic circumstances of the fire, the club pulled together and with an immense fundraising effort, has managed to create this very valuable local community asset.
"All of those involved are to be highly commended for their endeavours and the analogy of the 'phoenix rising from the ashes' is entirely appropriate on this occasion."