Randox pre-tax profits rise five-fold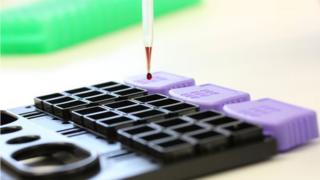 Randox, the County Antrim healthcare diagnostics company, saw its pre-tax profits leap five-fold to just under £13m in 2013.
Turnover at the firm, which has its headquarters in Crumlin, also rose significantly from £72m to £91m.
The company said diversification into new markets and new products had driven the improved performance.
Randox is one of Northern Ireland's major exporters, shipping to 145 countries.
It also spent heavily on research and development, with its total R&D spending just under £8m in 2013.
The firm grew its workforce by nearly 100 people in 2013 and now has around 1,300 employees.
A Randox spokesperson said the company would be expanding its workforce over the summer months.
During 2013 the firm bought the former Massereene army barracks in Antrim but has yet to say how it plans to use the site.
Earlier this year it expanded its forensic toxicology business by buying the assets and order book of Manchester-based Trimega Laboratories.
Randox provides forensic services to more than half the UK police forces as well as workplace testing.
The firm is owned by its founder Dr Peter Fitzgerald.