Garth Brooks: Petition launched by Croke Park residents in support of five gigs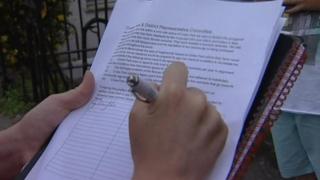 When Dublin City Council gave permission to only three out of five proposed Garth Brooks concerts at Croke Park, the views of residents in the area was said to be crucial to the decision.
Residents near the GAA stadium had threatened legal action after the initial two concerts were increased to five.
However, some have now launched a petition to have all five proposed events go ahead.
They said that those who oppose the concerts do not speak for the entire area.
The council said 373 submissions had been received from residents, residents' groups and local businesses before they made their decision to deny two of the concerts, due for 28 and 29 July.
However, Sandra Reid, who helped organised the petition, said all five nights should proceed.
"Under certain circumstances, such as this with the amount of money that's going to go into the economy, these concerts should go ahead," she said.
'Voice'
"There are kids in the area that have summer work and depend on as many gigs as possible to go ahead because that's the only job they have."
She added that the Croke Park Streets Committee, who opposed the concerts, do not speak "on behalf of the whole area".
"They never notified us about any meetings, we heard nothing about them until they were over. There wasn't one leaflet put through any of our doors," she said.
"We want to have our voice, because they are not the only residents in the area and they are not speaking on behalf of all of the residents.
"We're the ones that live in the area, this is our community, and it's not a handful of residents that own it."
Susan Mangan, who describes herself as a big Garth Brooks fan, agreed.
"They represent a small minority of people and I think it's about time the real residents around here spoke out, got out onto the streets and showed support for the full five nights, not for three."
Another resident, Lorraine Gavin, said the residents in the area "don't want to be branded as killjoys".
Dublin City councillor Nial Ring, who lives in the area, said problems emerged because the five-night run of concerts broke an existing deal that there would be three concerts per year.
"We already had three concerts by One Direction," he said. "The promoters of Garth Brooks applied for five additional concerts and, for the people in the area, that was a step too far.
"While some residents are pleased it's down to three, a lot of people have sympathy for the 160,000 people who have tickets and may now not be facilitated. It's a mess at the moment."
Mr Ring said the situation was a "debacle" and said it was "wrongly handled" by the GAA and organisers, Aiken Promotions.
"They didn't engage with the local residents and, after all, Croke Park is in the middle of a highly densely residential area.
"A lot of people and their families were here before Croke Park was here and certainly before it became a concert venue."
He said he hoped a solution would be worked out that would allow all the concerts to go ahead, but only three in the Croke Park area.
When asked about the petition launched by some residents, he said he did not believe there was a "cohort of people who want the area locked down for five days".
'Gutted'
One person hoping for a solution to be found was Londonderry woman Ann Thompson, who has 12 tickets for the Tuesday, 29 July show.
She was due to travel along with family and friends to the concert, and said she would rather the show went ahead than be given a refund.
"If it is cancelled, I'd be really disappointed and totally gutted. There are 12 of us going. I'm really banking on this and have been excited for half the year."
She said that her family had been fans of the singer "since day one".
"I'm still excited about the concert. I'm still hoping that it can go on. I've just heard that the residents in Croke Park have no problem with it.
"Seeing Garth Brooks is a lifetime goal for me. I've never been to a massive concert like this before and I'm really looking forward to it.
"If it's cancelled it would be a complete shame for us, and for him."