IRA graffiti daubed on Castlerobin Orange hall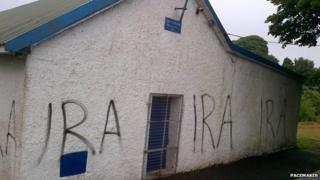 IRA graffiti has been daubed on an Orange hall in County Antrim.
The graffiti was painted on Castlerobin Orange hall near Lisburn, the Grand Orange Lodge of Ireland said.
Grand Secretary Drew Nelson said it was a "sickening hate crime which bears all the hallmarks of a deliberate sectarian attack".
He said: "This is clearly an attempt to heighten tensions ahead of 12 July in the warped mindset of those responsible - they must not be allowed to succeed."
The incident has been condemned by unionist and republican political representatives.
DUP MLA Paul Givan said, 'This is a clear example of a hate crime where an Orange Hall in a rural, isolated setting has been targeted.
"Those who have been so vociferous in their opposition to the Orange Institution, its members and its parades cannot feign surprise when Orange Halls are then subjected to sectarian hatred."
Ulster Unionist Party MLA Danny Kinahan said: "Sadly this is the latest in a depressingly long list of attacks on Orange Halls in the south Antrim area.
"I have been consistent in my condemnation of all types of attacks on property, whether on Orange halls, GAA halls or Churches and places of worship of any denomination. They are all sectarian hate crimes and have no place in our society."
Sinn Féin representative Mary Kate Quinn said: "This attack on the Castlerobin Orange hall must be wholeheartedly condemned.
"I would appeal for anyone who knows anything about this incident to contact the PSNI."