Donaldson says loyalist parade response 'will be peaceful'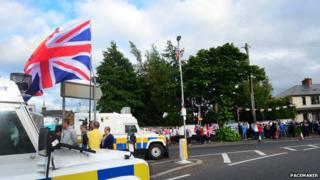 Loyalist paramilitaries will take a "peaceful approach" over the restriction of a contentious parade, DUP MP Jeffrey Donaldson has said.
A joint unionist statement was issued by parties including the paramilitary-linked Progressive Unionist Party and Ulster Political Research Group.
Mr Donaldson said those parties had pledged there would be no violence.
Sinn Féin's Martin McGuinness said when large crowds are on the streets, it was "something that cannot be controlled".
"The agenda in north Belfast is being led by the UVF and the Orange Order," said the deputy first minister.
"I think it's very disappointing that we have now seen effectively the Ulster Unionist Party and the DUP throw in their lot with those who would attempt to foment conflict on the streets."
On Thursday, unionist parties walked out of talks about contentious issues in Northern Ireland, in protest at the Parades Commission barring an Orange Order march from returning along part of north Belfast's Crumlin Road on 12 July.
The road separates unionist and nationalist communities in north Belfast, and it is the second year in a row that the commission has ruled against the return leg of the 12 July parade marching along the route.
In recent years, there has been serious rioting in the area.
A joint statement by the DUP, Ulster Unionists, Traditional Unionist Voice, Progressive Unionist Party and Ulster Political Research Group talked of a "graduated response" to the Parades Commission's determination.
Mr Donaldson said further announcements about their plans would be made later on Friday, but they were "seeking to develop a programme that will enable people to channel their frustration about this, but in a constructive, non-violent and peaceful way".
'Clear statement'
He said the importance of the joint statement was that political representatives of the UVF and UDA had committed to a non-violent response.
"We can only seek to use our influence - at the end of the day, we are not in a position to direct people and to order them into what they should do," he said.
"We rely on others to use their influence, and I take it at face value the commitments that have been given.
"If it turns out that people do engage in violence they have to answer for that, and we will hold them to account.
"That's why we wanted to bind people into a clear, unequivocal statement which makes clear that violence and unlawfulness can be no part in what we are seeking to achieve."
'Questionable backgrounds'
Chief Constable George Hamilton welcomed Mr Donaldson's comments but said he questioned why paramilitary groups "need to exist at all, this long into the peace process".
"However, being pragmatic about this, they do exist. They're going to exist on the 12th July this year," Mr Hamilton said.
"They do have influence within communities and therefore I think it is sensible for the leaders of unionism, in the mainstream parties, to be engaging beyond their normal reach into those groups to try to ensure that we have a peaceful and non-violent 12 July," he added.
The chief constable said the PSNI has regular discussions with community representatives from all backgrounds.
"The background of some of these people is questionable, it may not be comfortable for us. We will not compromise ourselves, we will not legitimise paramilitary groups but we will talk to individuals who have influence."
Mr Hamilton added: "I'd far rather be talking to people in rooms than fighting with them on the street."
The chief constable also said that blocking roads was a criminal offence and police would prosecute anyone who broke the law during a protest.
The Orange Order warned supporters that violent protests against the decision to limit the parade will only serve to harm its cause.
Grand Master Edward Stevenson called for a peaceful response to the Parades Commission ruling after he met to discuss the controversy with unionist political leaders in east Belfast.
'Escalating crisis'
Earlier, Ulster Unionist leader Mike Nesbitt said the 'graduated response' would "become more obvious as the days and weeks roll out".
"All I'm prepared to say at the moment is that graduated is not necessarily the same as escalated, and everything we do will be lawful and peaceful," he said.
Mr Nesbitt added: "What we have done collectively as unionist leaders is show leadership and say 'you don't have to do this any other way but politically'.
"As political leaders, we are prepared to act and react when people are not treated fairly."
Sinn Féin president Gerry Adams said the walkout was part of an "escalating crisis within the political process" in Northern Ireland.
"This week we warned David Cameron that the political process in the north is deteriorating," he said.
"We told him that the British and Irish governments, as co-equal guarantors of the agreement, should not acquiesce to unionist threats and must ensure continuing progress and this has to include implementing agreements already made that are the sole responsibility of the two governments."
Martin McGuinness told BBC Radio Foyle he believed First Minister Peter Robinson's position was being weakened by elements within the DUP "who are hostile to being in government with Sinn Féin and the whole concept of equality".
Asked if he felt Mr Robinson was a "lame-duck first minister", the deputy first minister said: "It appears that no decisions can be taken by the leadership of the DUP without the agreement of what I consider to be extreme elements within the party.
"He has not been able to take decisions - you can make your own judgement on that."