Axe 'embedded in man's back' in Downpatrick family row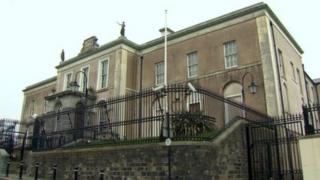 Police found a man with an ornamental axe embedded in his back after his brother and nephew allegedly tried to kill him, a court has been told.
Christopher Daniel Lynch, known as Gus, is still in hospital after the attack that was alleged to have taken place in Downpatrick, County Down, on 1 July.
His brother, Martin Lynch, of Carraig View, Raholp, Downpatrick, appeared in court charged with attempted murder.
Mr Lynch's son, Sean-Paul Lynch, of the same address, faces the same charge.
The father and son are also jointly charged with possessing a baseball bat.
'Family fight'
Martin Lynch faces a further allegation of causing actual bodily harm to his brother on 1 July while his 18-year-old son is also charged with causing criminal damage to a car belonging to Gus Lynch's partner on the same date.
A detective constable told Downpatrick Magistrates' Court that the case against them arose from what appeared to be a family fight at the Lynchs' family home.
The court heard that the 45-year-old victim remains in the Ulster Hospital but that his injuries are not life-threatening.
Police were called to the house twice that night, the first time by Martin Lynch's partner, who reported a disturbance during which a glass had been smashed and Gus Lynch had received a head injury when Sean-Paul Lynch allegedly hit him with a beer can.
'Confrontation'
The judge was told that the father and son, allegedly armed with baseball bats, chased their victim from the scene.
Gus Lynch and his partner left the house after Sean-Paul Lynch allegedly smashed a car window with a bat and Martin Lynch hit his brother on the head with another bat.
By the time officers arrived at the scene "all appeared to be calm" the detective told the court, but added that just over an hour later, Gus Lynch returned to his brother's property and there was a "confrontation in the front garden".
The victim's partner, who was sitting in her car 50 yards away, told police the brothers were "grappling" on the ground when Sean-Paul Lynched appeared to have "swiped" at his uncle's back.
The court hear that when Gus Lynch got into his partner's car, she noticed an injury to his back.
'Spinal cord'
Martin Lynch's partner called police for a second time and the detective told the court that when officers arrived at the scene, Gus Lynch was "lying face down in the rear passenger seat and they could immediately see there was an axe embedded in his lower back".
Shown the photographs of the injury, the judge said it looked as though the weapon was imbedded around five inches deep into his back and that he was "very lucky" it had missed vital organs and his spinal cord.
The court heard that when Martin and Sean-Paul Lynch were arrested and interviewed, neither answered detectives' questions, each responding with "no comment".
Police objected to their pair's bail applications.
A defence solicitor told the court that when the axe is forensically examined, there will not be any evidence to link his clients to the weapon.
"That is going to be key evidence in this case because clearly, the last person to touch that, their prints should be on that item," said the solicitor, adding "they're telling me categorically that they did not touch it".
Refusing bail, the judge said both men "have records for violence" and added he was concerned that "if released further offences may occur".
He ordered the pair to appear again via videolink on 31 July.