Sinn Fein official Denis Donaldson murder inquiry 'extended'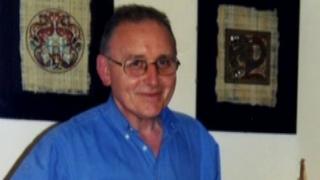 An inquest into the murder of Sinn Féin official Denis Donaldson has been told that the investigation has been extended to another jurisdiction.
Mr Donaldson was shot dead at a remote cottage near Glenties in County Donegal in April 2006.
He fled there after the fact he had been an informer for the police and MI5 for 20 years was exposed.
Thursday's inquest was told there had been "a recent significant development" in the investigation.
Garda Supt Michael Finan said assistance requests were being prepared for another police force.
He told the hearing in Letterkenny - the 14th in a series since 2007 - that 322 people had made statements as part of the investigation and 906 lines of inquiry had been generated. He said 26 lines of inquiry were still active.
Supt Finan was seeking a further, long, adjournment of the inquest into the death of Mr Donaldson. The murder was claimed by the Real IRA.
The former senior Sinn Féin official from Belfast had confessed to spying for police Special Branch in Northern Ireland and secret service MI5 just months before he was killed.
Family absent
The Donaldson family's solicitor, who snubbed the hearing in March because of strong objections to continuing investigative delays, was again absent on Thursday.
He sent Coroner Dr Denis McCauley a letter, saying that as the family knew the police were seeking a further delay there was no point attending, without intending any discourtesy to the inquest.
Dr McCauley said he had made it clear at the last hearing that, like the Donaldson family, he was interested in getting finality. He had raised the question why he should not have a full inquest soon.
He said that on hearing of advances in the police criminal investigation, he was now prepared to further adjourn the inquest proceedings until 18 February.